With over 22,000 Google searches per month, root canal cost is clearly a concern for many people with a root canal system infection. But due to various treatment options and possible outcomes, the average cost of root canal treatment can be difficult to determine. Considering all of the factors involved that could increase costs is important when deciding which course of action to take.
FACTORS THAT CAN INCREASE YOUR ROOT CANAL TREATMENT COST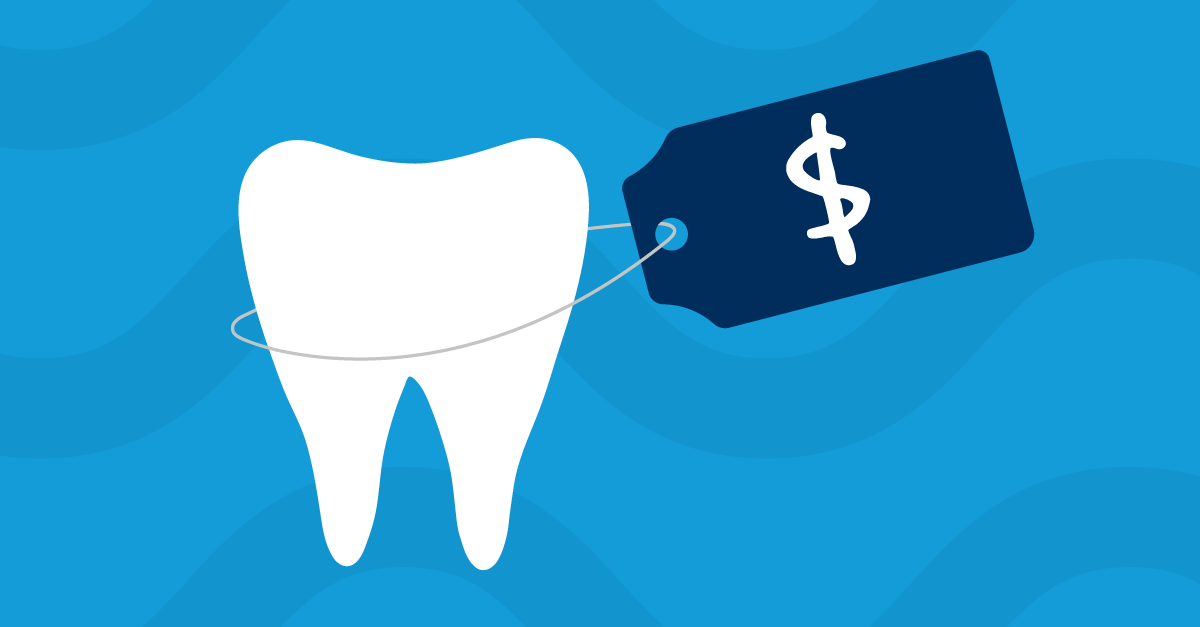 A perfect treatment example with indirect expenses that can drastically increase your costs is a tooth extraction. At first, a tooth extraction may appear to be cheaper, which encourages many people to opt for having the tooth pulled rather than undergoing a root canal,* but there are a lot of other factors to consider.
DIFFICULTY OF CASE
Is your tooth partially impacted? Be prepared to pay more! Removing impacted teeth can cost significantly higher than teeth that have cleared the gum.**
RECOVERY PERIOD
Pulling a tooth is a disruptive procedure that requires an extended period of recovery, with an initial healing period that lasts about one to two weeks.*** Time off work for recovery means lost wages—or your precious PTO!—so be sure to keep any downtime in mind.
ASSOCIATED PROCEDURES & APPOINTMENTS
Are you planning on filling that new gap in your teeth with an implant? A dental implant is an entirely separate procedure with its own direct and indirect costs and associated risks. And, not everyone is a good candidate for getting an implant, such as people who smoke, have uncontrolled diabetes or an autoimmune disease.†
COMPLICATIONS
If you decide against getting an implant or are not an eligible candidate for one, having a tooth missing can cause the remaining teeth to shift, affecting your bite and making it difficult to chew*** —ultimately requiring additional procedures and costs incurred. 
ADDITIONAL APPOINTMENTS
There are many steps involved in the dental implant process, and the time-cost for additional appointments can seriously increase your treatment costs. Depending on the specifics of your particular case, the process from getting the tooth extracted to a dental implant can take anywhere from five months to one year†† with many appointments in between—that's a lot of co-pays, inconvenience and time off.
THE GENTLEWAVE® PROCEDURE: ROOT CANAL THERAPY IN ONE APPOINTMENT
If it is determined that your tooth can be saved with root canal therapy, the GentleWave® Procedure is an innovative alternative to standard root canal treatment that is typically performed in a single visit.4  Standard root canal treatments usually require two or more appointments††† and can leave behind infected tissue2 and cause reinfection—that means a need for retreatment, more appointments and added expenses. The GentleWave® Procedure removes bacteria, debris and tissue2 so effectively that there's less chance of failure over time.4
Discover the minimally invasive1 alternative to standard root canal treatment—find a GentleWave Provider today.
*** WebMD
†††Colgate
The GentleWave® Procedure is a medical procedure that is designed to prepare, clean and preserve the structure of teeth1,2,4 indicated for root canal therapy. Similar to other root canal treatment procedures, there is a potential risk of adverse effects. If you are considering the GentleWave Procedure, ask your clinician if you are a proper candidate. For additional information, visit https://gentlewave.com/safety-information.